---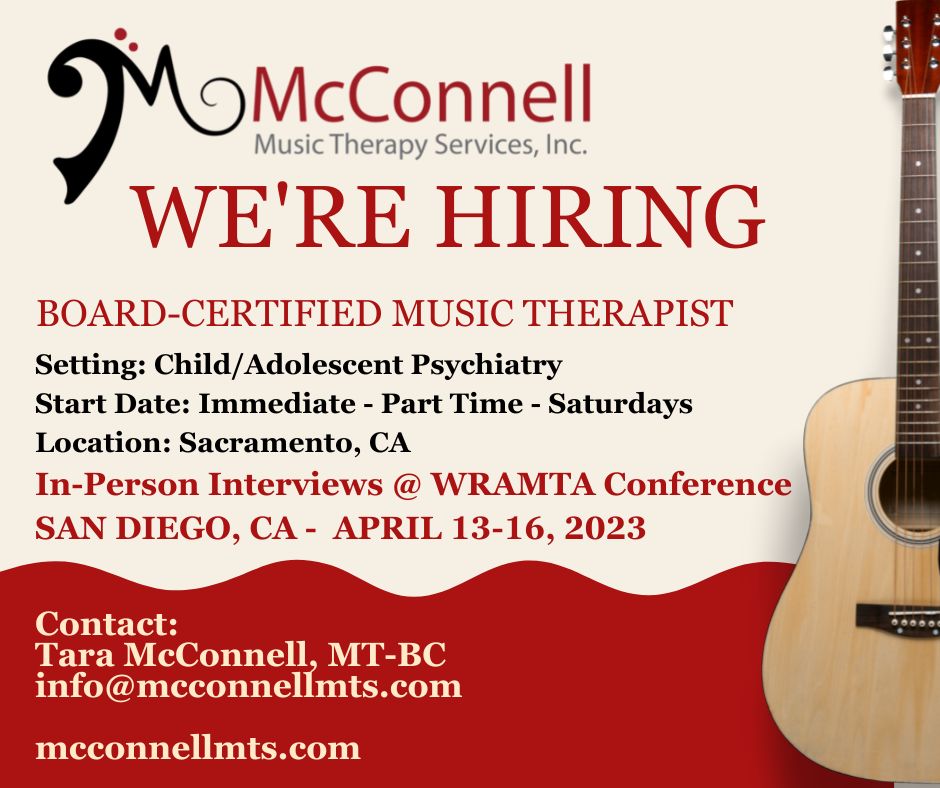 Come work with an established private music therapy agency with a 21-year history, alongside regional leaders in neuroscience, psychiatry, oncology, special education. Join a collaborative, welcoming, and enthusiastic team of Music Therapists serving diverse settings throughout the greater Sacramento, CA area.
---
Job Title: Music Therapist - Inpatient Psychiatry (Child/Adolescent Units)
Start Date: IMMEDIATE OPENING (Open as of March 2023)
Hours: Approximately 15-20 hours per week. (half-day weekdays + Saturdays)
Locations: Sacramento, CA
Serious Applicants Only - In Person Interviews and introductions may be scheduled remotely via zoom or in-person at WRAMTA Conference in San Diego, CA April 13-16, 2023.
TO APPLY: Send Resume, 2 Videos & cover letter to info@mcconnellmts.com. (see below for additional details).
***Please do not apply if working half-day Saturdays is not possible***
---
Position Overview:
McConnell Music Therapy Services, Inc., serving the greater Sacramento, CA area, is looking for a passionate and driven Music Therapist to join their growing clinical team. This position will be responsible for providing high-quality group and individual services for children and adolescents in an inpatient psychiatric medical setting. Position includes support from another music therapist providing services onsite to adult patients. Compensation will be commensurate with experience.
Typical schedule is 11 music therapy sessions per week.
1-2 weekdays (flexible) + Saturday (4 hrs)
Each shift includes 3-4 sessions and documentation.
---
General Qualifications:
Must hold MT-BC credential
Master's Degree preferred but not required.
Ability to work half day Saturdays. (Please do not apply if this is not possible).
2 years experience providing psychiatric groups for children/adolescents preferred.
Strong clinical and group facilitation skills.
Ability to be flexible and operate in a fast-paced environment
Strong communication skills
Self-motivated, possessing grit and integrity
Current CPR Certification (Healthcare Provider)
Recent TB/PPD screening within one year (may be done upon hire)
Strong clinical musicianship skills - excellent rhythmic skills, comfortable with improvisation and songwriting, and using a variety of repertoire.
Technical skills: Epic/EHR systems; Google Drive/Workspace applications.
Physical Requirements: carrying equipment, sight, mobility, sitting/standing.
Able to pass background check and basic health/drug screening upon hire.
Proof of Vaccinations: (Covid-19, annual flu, varicella, MMR, Tdap, Hep B)
---
Compensation & Benefits:
Rate negotiable and commensurate with experience.
Medical Benefits effective after 60 days of employment. (50% of premium paid).
Dental/Vision/AFLAC plans available.
Retirement Plan (Employer matching up to 3% after 1 year of employment)
Sick/Wellness leave converts to PTO after 6 months.
Eligible to accrue up to 6 Days/48 hours of PTO per year of employment.
Select Paid Holidays are added annually based on length of employment.
Annual and periodic performance-based raises.
AMTA dues reimbursement
Continuing Education stipend of $300 OR VIP membership with musictherapyed.com
Up to $250/year reimbursement for medical co-pays or person wellness services.
Consistent support from Clinical Director and MMTS team.
Team-building social/off-site events (covid recommendations permitting).
---
Our Ideal Candidate Will Be Able To…
Demonstrate knowledge of various diagnoses related to psychiatric illness (i.e. Depression, Anxiety, Bipolar Disorder, Schizophrenia, etc.).
Implement various music therapy group methods including the use of singing, songwriting, group improvisation, music listening, and guided music relaxation.
Demonstrate clear and concise written documentation describing session goals and outcomes in electronic health record for each patient served.
Communicate and consult with interdisciplinary teams and other professionals as needed within therapeutic scope about progress.
Collaborate within an interdisciplinary team to provide the highest quality of care to our patients/clients.
Maintain patient confidentiality as mandated by HIPAA.
Clean/sanitize instruments and/or equipment with appropriate materials.
Attend and participate in supervision as requested and recommended by the Clinical Director/Supervisor.
Attend professional development opportunities to maintain credential and advance clinical skills.
---
TO APPLY:
Prepare current resume, cover letter and 2 videos. Videos should demonstrate musical ability using piano and/or guitar. Please share how you would use your chosen music for therapeutic purposes, what goals you could address and in what setting(s).
Once we receive your documents we will notify you to request an interview. The interview is a 6 part process including initial phone/zoom interview, Official Application written questions, Reference communications, Executive Team interview, All-Team interview; In-person (preferred), Working interview (if requested by MMTS).
Email documents and video links to:
Tara McConnell, MT-BC, Executive Director, info@mcconnellmts.com
We are highly motivated to fill this position as soon as possible, and it will remain open until filled.
---
Contact Information:
Ph: 916-996-1589
PO Box 9026 - Auburn, CA 95604