---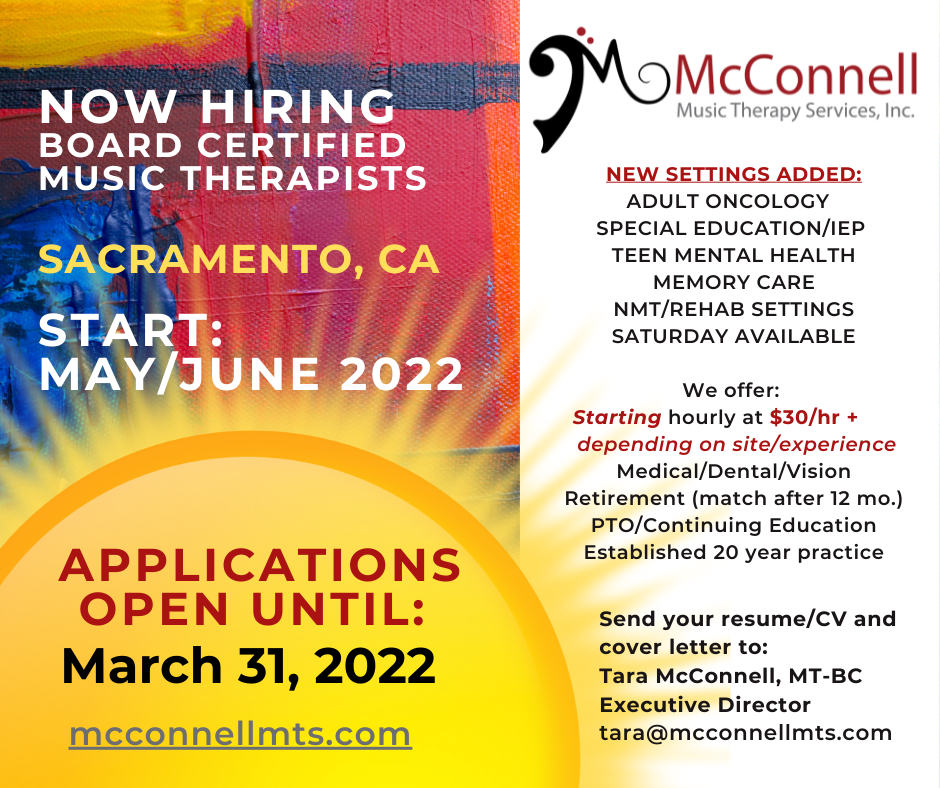 ---
McConnell Music Therapy Services, Inc. is always accepting applications from well-qualified individuals to join our team. We are a growing organization focused on matching our clients and programs with the right music therapists for them, in the right setting, at the right time.
We provide opportunities to work in medical/hospital, mental health, neuro rehabilitation, community and special education settings.
Caseloads typically range from part-time, per diem, to full-time. Most assignments may start at part-time and build to full time.
MMTS offers the stability of a 20 year practice, a team-based support network, continuing education stipend or MusicTherapyEd.com VIP membership, AMTA dues, paid time off, medical/dental/vision benefits, retirement plan (matching up to 3% after 1st year)
McConnell Music Therapy may be a good fit if you:
Have a minimum of a bachelor's degree in music therapy and MT-BC credential.
Have 2 years of experience working as a music therapist - not required but preferred.
Exude an entrepreneurial spirit and enjoy a fast-paced dynamic environment.
Demonstrate excellent written & verbal communication skills
Have excellent clinical musicianship using guitar/piano/voice.
Have good organizational skills and time management.
Are familiar with Apple and Google-based platforms.
Share a common goal to broaden the diversity of our profession, our client base, and our practice.
Adhere to the highest level of ethics and professionalism in all aspects of your work.
comfortable being an advocate for your patients/clients and for the profession of music therapy.
Are interested in working in 2-3 settings with opportunities to observe and expand to new settings or areas of interest.
---
2 OPEN POSITIONS (may be combined for full-time work)
Start Date: MAY/JUNE 2022
#1- PART TIME: (anticipated full time after 6 months) Board Certified Music Therapist with experience in Special Education, schools, and IEP settings (individual and group). Support provided by MMTS team with decades of experience.
#2- PART TIME: Medical/Hospital - Adult Oncology/Adult Rehabilitation Settings - Board Certified Music Therapist with hospital experience preferred. Be a part of a multidisciplinary team in adult oncology/BMT and share office with pediatric MTs/MMTS colleagues.
If you are interested in applying, please email your resume and cover letter to tara@mcconnellmts.com with the Subject Line: "I want to join the MMTS Team!"